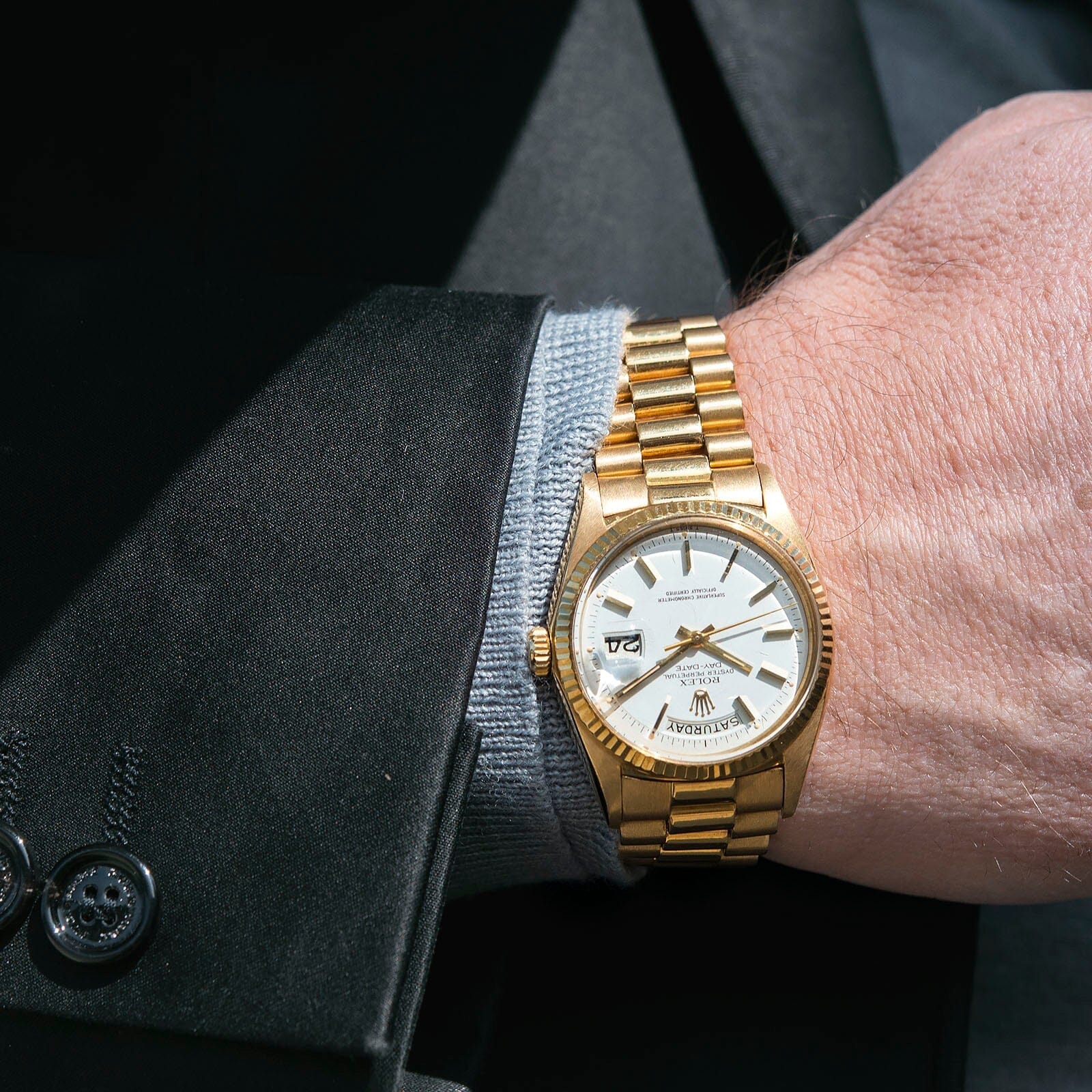 The Rolex Day-Date - King of Versatility
The Rolex Day-Date is a great watch to own and a great watch to wear. In a watch market that is obsessed with the Daytona particularly and Rolex sports watches in general, the Day-Date is in some ways the forgotten King. A nice matte dialed Submariner is twice the price of a good Day-Date. To be clear, we are not talking about the hyper-rare Day-Dates, the kind sold in the Phillips' 2015 themed auction. These watches have a microcosm economy all of their own. We are talking about good, honest 1803s (to be specific) with nice dials and fat cases. If it's a question of style, then these little guys have it in spades!
King of Kings
The Day-Date (DD) was launched in the spring of 1956 at the annual trade fair Baselworld. The watches featured Rolex's Datejust technology, but were enhanced with the additional complication of a Day window. The watches were available in precious metals only, including yellow, white and pink gold and platinum. There are a tiny number of watches in steel that were probably test pieces that found their way into collectors' hands. Dare we say prototypes? Interestingly, the very first DD cases have 1955 serial numbers, which ties in with Rolex manufacturing the watches a year before launch to stockpile pieces. The first references available were the 6510 and 6511 which were manufactured for one year only. In 1957 the second series was launched in references 6611 (with a coin edge bezel), 6612 (with smooth bezel) and 6613 which was made in platinum in very small numbers. Both series one and two were monoblocco cases, where the midcase and bezel were of one piece.
The 1803 Came to Be
Four year later in 1971 the most iconic of all vintage Day-Dates was launched – the mighty 1803. The 1803 had a long run until the late 1970s when it was superseded by the new sapphire glass quick-set watches. The 1803 was available in all three golds (yellow, white and pink) and had a reeded bezel. Other watches in the third series of the DD were the smoothe bezel 1802 and the platinum 1804 that was often adorned with a diamond set bezel and diamond hour marker dials. There were other interesting references in this series including a 'Morellis' engraved bezel on the 1811 and for the Italian market, a 'bark finish' yellow or pink gold 1807. It is the 1803 that became known at the President watch and that many people associate with the Day Date. Worn by Presidents, Rappers, Wall Street traders and Tony Soprano…it's a watch with mass appeal.

Some people think a white gold Day-Date might be close to a Datejust. So why pay so much more. But once you have been wearing a Day-Date on a President bracelet you get a fully different feeling. The weight feels so different and it sits different on your wrist. Great fun. Enjoy!
A great looking rose-gold Day-Date with diamond hour markers.
A King's Ransom
The Day Date was expensive. Not just expensive in the sense of an expensive watch, but properly expensive…the equivalent of a family car at the time. This makes it an interesting turn of fate that it has been over taken so dramatically by its steel counterparts. In context, I recently found a copy of a German Rolex price list (in DM) from 1973. In it a yellow gold Day Date cost 4100 DM and a steel Submariner was 590 DM. the platinum 1804 on a President bracelet was 25,900 DM! As I mentioned at the top of this piece, the steel Sports Rolex as reference 5513, 1675 or 1016 have become much more valuable then the Day-Date. Also in the last 4 month they are catching up. People more and more start to enjoy the 36 mm case again. And collectors understand more and more the special feel and historical value of the Day-Date in the Rolex family.
A very rare version with the mint green color Stella dial and diamond hour markers.
The 1802 Day-Date with smooth bezel.
The rare Rolex 1806 Day-Date with Florentine finish and Brick bracelet.
Bling… bling … bling…. but hell it looked cool live. Guilty Pleasure!
Wood Dial Day-Date details. See the 3D effect and depth of the dial.
The President Bracelet
A new bracelet accompanied the introduction of a top-of-the-range watch from Rolex in 1956. Only ever made in 18kt gold or platinum, the President bracelet was the new dress watch bracelet from the brand. The Oyster bracelet was conceived for their tool watches and the introduction of the jubilee bracelet was the option to have a slightly dressier option. The president bracelet was, however, heavy and gave the watch real gravitas. The construction was a hybrid of a sort – the more rounded links of the jubilee bracelet but larger and constructed in a similar way to an Oyster bracelet. The dressier option before the president had always been a leather strap, which takes the watch in a whole different direction…
This 1803 Daydate with gold case/bracelet and bluish-grey dial combo is so striking beauty.
Rare white gold Day-Date with light blue Stella dial and diamonds.
King of Versatility
The Bulang and Sons way is to mix it up, style it up and go our own way. Founder Bernhard Bulang often refers to what he calls "pleasant friction", in essence the juxtaposition of two styles. In the case of the Day-Date, this can mean a cool rugged vintage leather strap with selvedge denim and M-65 jacket for weekends. Or how about putting your 1803 on an Elegant range strap with subtle side stitching, paired with a cashmere John Smedley cardigan for supper at your favourite restaurant? To take it tp another level, what could be better by the pool than a cool 20mm striped nylon nato strap on your DD whilst you sip a mojito!
For sure still our favorite Day-Date Combo. Grey Wide Boy Dial, Gold case and funky nato suede Camo strap. Wear it just as you enjoy it. Either with a gold President bracelet, some classic alligator strap, sporty leather, rugged or just on a nylon nato. That watch can handle it all and it's so much fun to down-dress them and change again. We don't need to bling… just wear them for great fun.
The Wide Boy dial adds so much coolness and sporty looks to the watch.
Some elegant sporty Suede works great with the fresh color of this white gold 1803. Great understatement and perfect look for summer.
Another one of the many, many dial variations we can see in Day-Date's. The linnen dial. That is what is the fun of these watches, so much variations and fun to discover.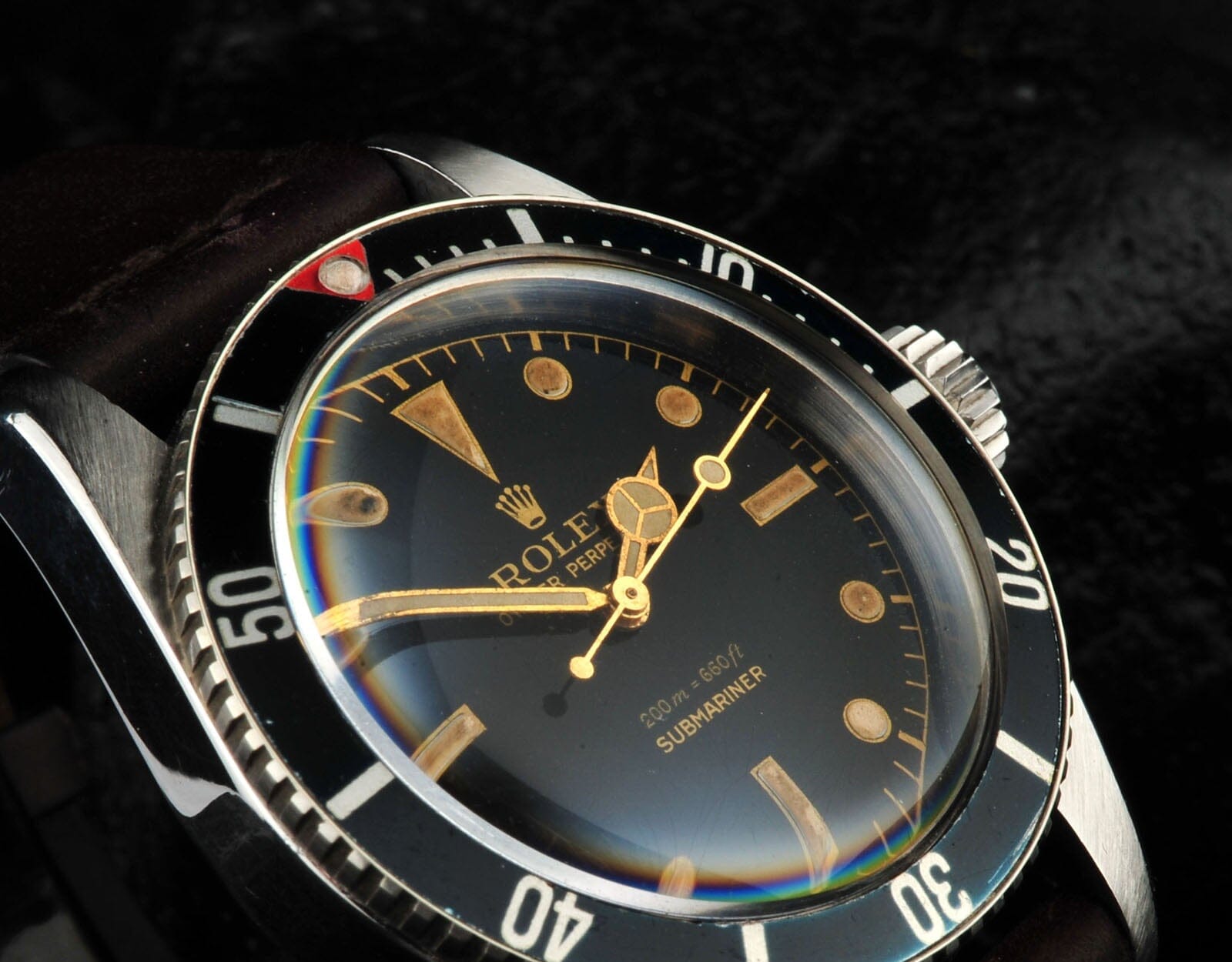 5513
Passiontalk - Watches with Charisma
Condition, condition, condition! It's become the horological equivalent of the old expression about buying property – location, location, location! But what does condition actually mean? And how do...
Read more