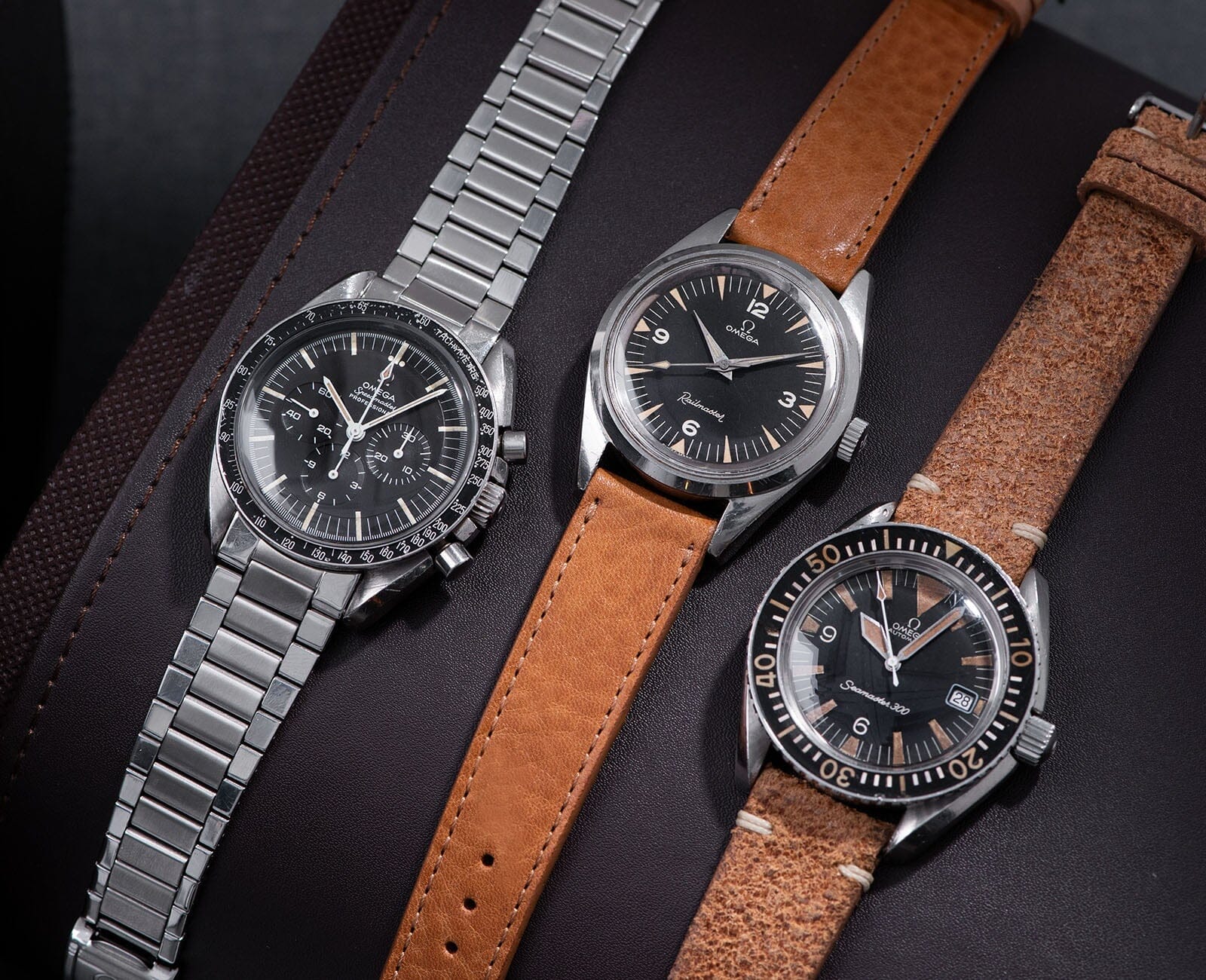 Omega Journey Chapter 2 - My Sports Watch Trilogy
The Scuba Diver that took the Train to his Rocketship
So, a scuba diver on a train with the destination rocketship. Either this is a scene from a bad blockbuster or did I simply have one Gin Tonic too many?! Actually, it's neither of the two. But take a look at these three magic Vintage Omegas and it should all start to make sense.
Going through my archives, I stumbled across pictures I took at Baselworld back in 2017, when Omega was presenting the 1957 Trilogy. Omega unveiled a box set of three watches that both the brand themselves and collectors alike would claim are the three most important sports pieces from the line up over the years – the Seamaster, Speedmaster and Railmaster. The concept was that the watches' all made their debut in 1957 and 2017 was the 60th anniversary of the launches. The opinions on these were divided. For me, artificially 'vintaged' watches can be aesthetically a little strange. But to be honest, in real life these pieces were very nice and easily wearable for everyday life.
As a fan of tool watches, to see those three iconic sports watches together was, and still is, charming and ever since it has been in my mind to create my own version of the trilogy, but with our own unique Bulang and Sons twist – maybe some cool curated pieces alongside the watches. I wanted to allude to the three functions these watches were originally designed for, but put together some curated packages according to my taste and ideas.
The Three Omegas
Today I can present my Trilogy, consisting of the pre moon Speedmaster 145.012-67, the Big Triangle Seamaster SM300 166.024-67 and the anti-magnetic 135.004 Railmaster.
Once I settled for these three Omegas, I decided to partner them with some toys that link to their background or history. You know how they say that big watches are grown-up boys' toys? It's not untrue. That's why I enjoyed hunting for some actual toys.


The Speedmaster + Rocketship
Let's start off the journey with the Speedmaster. For me, the Speedy is one of the coolest and most iconic chronographs ever. And it is important to remember that this was the watch worn on the moon, when Neil Armstrong took those historic first steps on the moon and happened to be wearing a Speedmaster – the watch was destined to be legendary forever.
It's a design that has remained almost untouched for decades and a rare example of a watch that could almost be a one-watch-for-life kind of piece, as well as being a watch that you can truly have a lot of fun with. I love it on the original steel flat bracelets, which make the case even more imposing and 'pop' on the wrist.
And when it comes to swapping and changing leather straps, the choice is literally endless. We have written a lot about these watches in the past and have sold a good number of beautiful examples. Whether straight lugs or twisted, crown guards or not and the details such as index length or bezel dots there will be a Speedmaster for you to love. And if you can find one with a tropical dial…end game stuff!
From my desk, I have a proper view of the lounge area in our office. It's surrounded by a wooden rack system, dividing the area in a cozy way and offering space for all those bits and pieces I like to collect and display. One of the more eye-catching objects is a model of the famous space rocket from the moon adventures of TinTin. I picked this up in Brussels after it caught my attention with its intense colors in the well-known checkered livery. The Hergé design from the late 1950s totally fits the spirit of a pre moon Speedy – there might still be a bit of way to cover, but we're definitely going to the moon!
The Seamaster + Scuba Diver
My personal favorite in this trio is the Seamaster. I have always had a soft spot for diver watches, especially when in their military configuration with the sword hands and big triangle index.
I guess this is why I was able to find so much satisfaction in owning a Rolex 5517 Mil-Sub back in the day.
An issued SM300 was always on my wish list but never in my possession, but I loved every single non-issued one that went through my hands. I love sword hands and have enjoyed owning a diverse range of such pieces, including the 5517, SM300s, CWC Royal Navy pieces and even the Scurfa Diver One. All these watches have versions of the original British MOD specified large luminous sword hands. It was important for my trilogy SM300 to tick all my boxes and this example, with its outstanding patina and the sword hands, really screams vintage military!
Looking for something playful to match, I was following the path of British issued tool watches. And that is how I ended up with the UK version of GI Jo – which was introduced in the same era in 1966 as the watch – the Action Man!
Finding original Action Man figures in NOS condition is as hard as finding an original set of sword hands! Luckily, a limited edition of the perfect matching SCUBA diver was launched recently and so I added an example of one to complete the set.
The Railmaster + Train
The Trinity is made complete by the Railmaster. The Speedmaster and the SM300 might be more popular and seem to have the bigger audience, but that makes the Railmaster an even greater watch from my point of view. I have always loved the under-the-radar watches – subtle pieces that are of the 'if you know, you know' type.
I also love the no-crown-guard tool watches like the Railmaster that segue perfectly between rugged sports and elegant dress. To dismiss the Railmaster as a simple name on the dial is missing the point of this watch, which is antimagnetic due to the extra-thick dial and antimagnetic inner caseback. Aesthetically, its shares some attributes with the vintage Rolex Explorer 1016, with Arabic numerals at the quarter markers and the aforementioned no-crown-guard sports watch case.
So it was time for me to find a fun object to curate with this cool vintage Railmaster. As part of my research I stumbled across a vintage French ad and it clicked in my mind. The Railmaster needed a train!
So I started the quest for an exact model of the displayed train in the ad. And yes, it got very entertaining and sometimes very complicated – I thought watch collectors were nerdy. The train enthusiast world is next level when it comes to the details! The train from the old ad was identified as the modified Class BB 16000 from the French Société Nationale des Chemins de Fer français (SNCF). Its little model equivalent is known as the Marklin Hamo 8338 /3038, and you can be sure I went for the first version (we might even call it MK1). No, I don't think this is the start of a model train collection, but with its lines, the train reminds me of a lot of cool cars, boats, furniture and other designs from this era. The pale mint color hints at its era. An outstanding industrial design, perfectly matching the soul of the Railmaster as a tool watch.
Curating Collectibles
It has always been clear to me that most of my collector genes come from my father. I remember sitting in his car, driving hundreds of miles through Europe, accompanying him to philately conventions. My father was and still is an avid collector of stamps and antique correspondence. He had letters posted on the first day stamps were introduced in Prussia, Germany in 1850, featuring those very first stamps. He had stuff like letters from Russian Czars to Champagne houses suggesting ways in which the drink, which was at that time banned in Russia, could be secretly imported into the country. Serious historical items/letters from the 18th century, that were important and highly sought after. This quest to find the next and best example is what drives me as a watch lover. But its so much more than the watches – it's the items that are associated with the watches. The very best way I can sum this up is that famous picture of me at the Passion Meeting wearing the full MN commando diving suit and rebreather. I also had to have the dive board, compass and depth gauge that went with my MN Tudor Submariner.
It's true…it's in my genes. But I wouldn't have it any other way!
So here is my Omega Trilogy – Bulang Style. Now it's up to you to check which package may be the one you can connect with the most!
Stay tuned for Chapter 3: Tonight's Main Fight: Ultraman vs. Snoopy