Great Vintage Guitars NOW at Bulang&Sons
We are delighted to have built an appreciative audience for our fine watches and lifestyle essentials. More and more we are hearing from customers who enjoy our wide range of products including vintage bags, bracelets, sunglasses, fashion products and leather goods. We are proud of our ever growing collection of handcrafted products.
In a new and exciting chapter for Bulang and Sons we have added another range of great vintage products to the shop; guitars. As you would expect from B&S, we will be offering iconic classics from the 50s, 60s and 70s; the golden age of vintage guitars from the great houses like Gibson, Gretsch and Fender.
On offer will be world-class instruments, sourced with the same dedication and attention to quality as we do for our watches. Only the very finest examples will be made available for our trusted clients. We love vintage guitars, and of course these guitars are, like great vintage watches; investment pieces. Quality, originality, and provenance are essential, as with all of our products.
Bernhard Bulang
Ross Povey
=====
We love guitars
You might ask "Why vintage guitars at B&S?". First of all, we love playing the guitar. Ross Povey is a formally trained jazz and rock guitarist, composer and teacher of music and has worked extensively as a freelance musician for many years. B&S meetings are always punctuated with jam sessions or impromptu gigs wherever in Europe we happen to be working. After a long day of photo-shoots, design meetings and product hunting, nothing beats playing a vintage guitar. Feeling the music that resonates within the body of a great guitar is both magical and inspiring to us.
Secondly, just like great vintage watches and cars, great vintage guitars speak to us personally. Just like the vintage Rolex Submariner, most of the iconic guitars are designs from the 50s. Many timeless instruments were created during those golden years of guitar making. These iconic designs are still relevant today.
But not just your regular kind of guitars
As with classic vintage watches, these guitars feel so alive to us – a feeling that is enhanced by great patina, wood that has been played for decades and a 'mojo' few modern guitars can conjure. Many of the guitars that we present have their own unique blues and rock 'n' roll heritage for example one of our pieces was played by the famous guitarist Dickey Betts from The Allman Brothers Band and another has the provenance of having been played for over a quarter of a century in the jazz clubs of New Orleans.
You need an expert to do it
To ensure that we continue to deliver the world-class service that our clients have come to expect from Bulang & Sons, we are proud to collaborate in this new venture with Tommy Metz of 'Guitar Lounge' fame, who has more than 38 years experience in buying and selling outstanding vintage and modern guitars. With a wide selection of the finest (master build) Fender guitars, rare Gibson Custom Shop versions and brands like Collings, Gretsch, Tom Anderson, PRS and amps by Two Rock, Victoria and recently even a Dumble; quality is Tommy's trademark. Among Tommy's clients and friends are worldwide collectors and also incredible musicians such as Robben Ford, Larry Carlton and Carl Verheijen.
Tommy is our partner to guide you and long time expert…
Contact us when you are interested. We are happy to help you get your dream instrument and guide you.
bernhard@bulangandsons.com
====
Here are some of the vintage guitars and amazing instruments recently sold.
Like this 1959 Les Paul Custom
Gibson ES350


This 60th Stratocaster..
This 1952 Les Paul Gold Top
And many more. To start our vintage guitar section we are proud to offer you some iconic guitars from the 50th and 60th…
The Dickey Betts 1958 Les Paul
Just to start off…. one of the iconic guitars from the 50th with an amazing history and provenance. Pure rock'n roll history. The original Dickey Betts 1958 Gibson Les Paul sunburst from his period at THE ALLMAN BROTHERS BLUES BAND.
An absolute grail guitar.. which deserves its own post in our B&S Magazine. So soon we will show you more… for now we are proud to send you the first images.

The perfect vintage Fender Telecaster from 1968.
Played by an New orleans Bluesman for decades. Pure mojo and tone. From our personal collection.
1956 Gibson Les Paul Gold Top
How about an all original amazing 1956 Gibson Les Paul Gold Top. Pure blister and rock'n roll history.

1963 Gretsch 6120 Chat Atkins Nashville
Or this great orange Baby… 1963 Gretsch 6120 Chat Atkins Nashville. Another great sounding guitar.
Gibson Les Paul Junior from 1955 in crazy nice condition

So you see, guitars and watches blend perfect together. Its about authenticity, quality, knowledge and trust… just like with watches.
But most of all its about passion for pieces that make our heart go wild and add spice and emotion to our daily life.

And one final notice… just like with watches.. looking at price lists back then.. and value today. If we only knew before…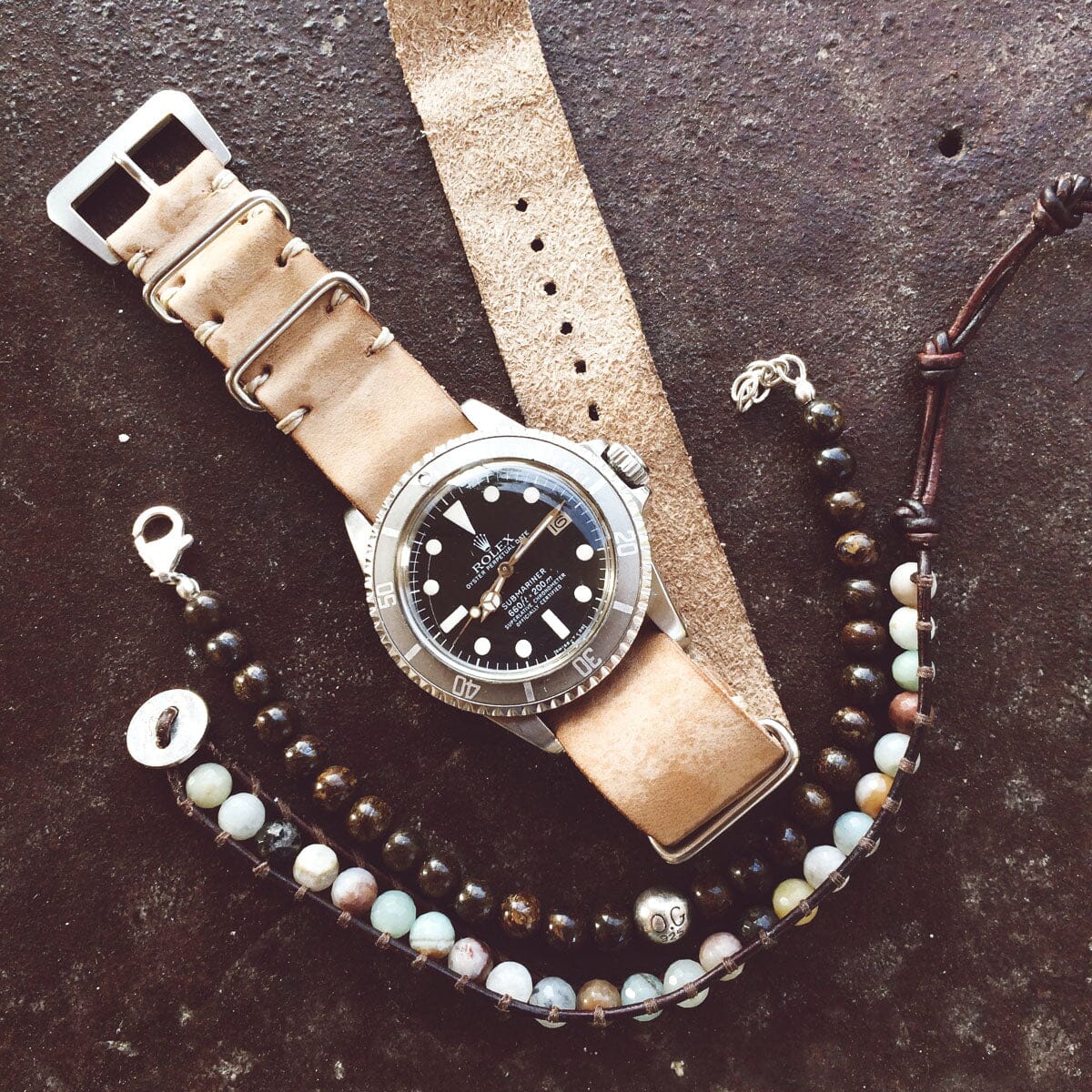 Category_Style Up
Signature by Bulang & Sons is a new department within our online boutique which houses a capsule collection of curated limited edition special pieces, chosen for their character, unique qualiti...
Read more