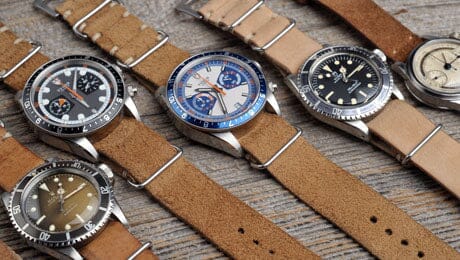 Ross Povey in the House...
Last weekend Ross Povey visited me and my family. As we had so much to talk about. Ross is joining the team of Bulang & Sons and we hope to be able to spread our love for vintage watches, Rolex, Tudor and the lifestyle around collection much more to an wider audience. Much, much more to come soon. But first some watch fun we had during the visit…
Great to see the brother next to each other. Left is my blue Heritage Chrono. And on the right is the first grey heritage Chrono to be delivered in the world and featured in the review on this blog.
The watch was delivered way to early by mistake to my AD. And as he did not know about the mistake he called me as i was first on the list. Lucky i was. It was such a thrill. A new concept… re-edition in a cool way. Much cooler then all the pure re-makes other brands do right now. Leaning on the vintage vibe but transform it into our modern living. Well done Tudor!
And here are 4 cool Tudors. The 2 chrono's and 2 issued MilSub Tudors. The Jamaican Milsub from Ross Povey and an 1975 Tudor MN. On which soon much more images and info will follow. We are working on an grand new Tudor MN article with the latest info. Soon to come…
Another love Ross and i share! Rolex Maxi dials.. the real fat ones. MK 1 Maxi. On the left the 5513 MK 1 Maxi of Ross and my 1680 with the same indexes. I changed the plexi to an #19 super dome. So you get that Mk1 Maxi feeling with 4 lines and an date. My favorite daily beater.
And some more love on the tabel.. my tropical 5512 and a new love of mine. Step case chrono from the 40th. I love those cases and looks of these watches. Super cool.
And to end the display i am happy to show you an super cool watch from Ross. It shows… that some of these pieces might not be the 'perfect' collectors watch. But oooooohhhhhh such a sexy beast. What more do you want. Its an super nice pointed crown guard Tudor Submariner. With an replacement dial. And so many collectors would call it .. 'no not for me' by cliché.
But when you see it with that replacement dial with such cool patina and perfect looks. And how it matches the strap. You could not wish for more on your wrist. Honestly.
The strap is a new style we will sell soon. But when we put it next to the watch/patina… it was such a perfect match. It had to stay on there.
As you see, we love these watches. Just an afternoon of fun at the office / studio.