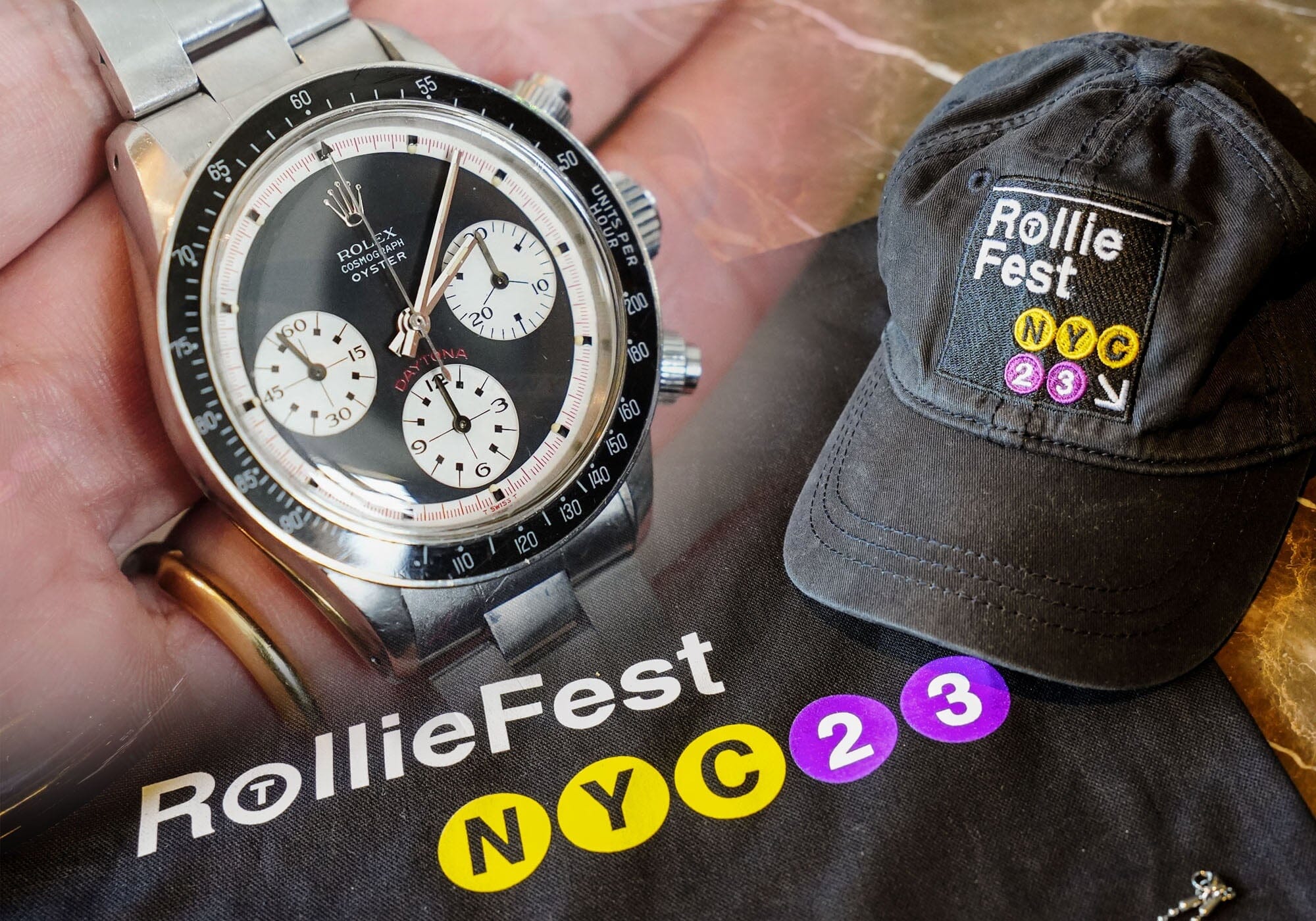 Rolliefest 2023 in New York: Join the Excitement of This Incredible Watch Gathering
I'm thrilled to share with you an exceptional experience at the largest watch gathering I've ever attended, Rolliefest 2023 in New York. Hosted in Manhattan by my dear friend and fellow watch collector Geoff (@manhattenrollie), who is now also the Head of Watches America at Sotheby's.

A crazy nice Rolex 6538 Tropical Dial by @tulipcrown



This time was particularly special as I had the pleasure of enjoying this extraordinary experience with my son, Berend. Berend has grown up among watch meetings, such as the renowned Passion Meetings I co-hosted in the past. Even as a young child, Berend had a love for meeting people and admiring their incredible grail watches. Sharing this experience, working together in the industry, and having a shared passion for these watches is a remarkable joy. I am immensely proud to witness his success in this realm and see his global network keep expanding over the years.
A super rare Omani Rolex 6263 Daytona with Kjanjar Dial by @vintagerolexasylum



You can imagine the joy we experienced traveling to New York City together, having delightful meals with dear watch friends, discovering their latest passions and acquisitions, doing some shopping, relaxing, and, of course, being part of this enthusiastic community of watch enthusiasts during the events.
Each time we visit, we pay our respect - such a impressive and serene monument.
A killer duo of early Rolex 6239 Daytona's - one underline, one tropical by @wristpassion
Let's Connect! Reach out and let's meet!
We cannot express enough gratitude to our dear friend Geoff for orchestrating this event once again and creating such a special gathering for the community. In these times, such gatherings are greatly needed—meeting fellow watch enthusiasts in person, delving into their passion, sharing knowledge, and understanding the stories behind these watches.
In our view, this is the magic of collecting watches - to share it with others and relish the experience together. It adds depth to the joy, comprehension, and knowledge of these watches.

Our dear, dear long time friend, collector and brother in watch passion Geoff, @manhattenrollie, who organized Rolliefest and just took on a new job as Head Watches America at Sotheby's. One of the best and nicest guys in the watch world.

And now, as he has a serious job... he also needs a serious watch ;-) (other then high end vintage Rolex)... a super cool Lange & Söhne Splitseconds Chronograph in Rosegold.I love the 6265 Newman Daytona's with the 2 color dials. Such stylish beasts!


By now, you've probably noticed my enthusiasm for these gatherings and watch events in general. Yes, we live in a world dominated by Instagram and social media. However, let's be honest, does it truly represent a genuine community? When was the last time you engaged in meaningful discussions and gained profound insights on Instagram? Isn't it mostly about seeking validation and often a form of self-branding? Watches need to look flawless in pictures for social media!
But the profound love for vintage watches, with not only a life and stories within them but also the fascinating narratives behind the collectors and what they've discovered and learned on their journey, adds immense value to this hobby. It's an experience that unfolds when you touch the watches, when you slip them onto your wrist, examine them in various lights, or inspect them with a loupe. It propels you to evolve and motivates you to venture further, enabling personal growth within this hobby.

Grail Newman > Black RCO Rolex 6263 Newman Dial Daytona

It is always great to be able to compare and get in depth with such beauties.
Bullibeer was my forum nickname for many years when I was pure a collector.
Incredible Venues, Watches, and People
Once again, Geoff orchestrated an extraordinary event. He left us in awe with stunning venues, great food, delightful drinks, and a vibrant international mix of collectors, aficionados, and dealers. It was a wild ride of incredible watches, but more importantly, a blast meeting so many old friends and new pals among the 175 guests from 17 different countries.
Dinner was at the mind-blowing American Museum of Natural History. Picture cocktails and great chats in this massive entrance hall—talk about a cool setting! And after the cocktails, we were treated to a great dinner right under a massive model of a blue whale. What a night to remember!

A rare line-up of vintage divers and such amazing condition!


And look at these 2 grails.. a super nice tropical Daytona and a super rare Prototype Rolex 1665 DRSD Seadweller by @morgen0714 > look close - no helium valve, yeah baby. Prototype before they added the helium valve.



The watch extravaganza continued the next day at the iconic 'The Rainbow Room' at the Rockefeller Center, on the 65th floor. So many watches on the tables, it was a fantastic opportunity to share the love and swap stories with their proud owners. We got our hands on some insane grail pieces and loads of special watches, unique in their own ways, be it the cool patina, amazing details, or fascinating history.
My personal favorite - the watch during Rolliefest that stole my heart - a rare Patek Philippe ref. 130 steel chronograph with 2-tone section dial. Dreams!!! by @lunaroyster
What a pare... a rare Omani Rolex 1665 Khanjar Dial Seadweller and a super nice and rare Rolex 5513 3-6-9 Gilt Explorer Dial Submariner.


This is an absolute grail Patek Philippe > not the modern re-edition < but the original ref. 570 Calatrava in steel with Breguet Numerals. Absolute Mega!!


I was very honored to be part of a panel discussion during the event. Share some views, learn about others and exchange thoughts with other watch lovers. (image ©Hodinkee)


Milgauss Heaven. What a beauty! And that 6239 Daytona packs a great 'secret'.. and Mk1 matte Double Swiss Dial Daytona. Live such a blast with the matte creamy/white dial and the hidden 2nd SWISS.



Berend enjoyed meeting so many old and new friends. And sure it is such great fun to have @morgan0174 in da house. Great meeting my friend and amazing watches!



Like I've said before, when people look at the pictures, they often focus on the fancy watches and bling. Sure, it's super cool to see, touch, and try on these rare and mind-blowing watches. But the real magic of these meetups goes beyond that. Our awesome host and good buddy Geoff put it perfectly during his welcome speech at dinner. He said the same thing back in 2019, and it still holds true today—how do we really measure success?
Such a stunner! Omani Rolex 1675 in gold with Khanjar dial @jedly1
Geoff:
"As most of you know I've been a watch collector for a long time. And like so many of you, I've attended many, many collector gatherings both locally and all over the world. And without question, the journey of watch collecting has been a cornerstone of joy for me throughout my life.
And for many years, I'm honest about it…along this journey I think I often measured success in watch collecting by the specific watches I had. By the specific references I owned.
I felt successful when I bought my first submariner. But I felt really successfully when I was able to buy a Milsub. Similarly, I felt successful when I bought my first Daytona. But I felt hugely successful when I bought a Paul Newman. And when that later became a screw pusher Newman…Boy did I think I was successful then.
The truth is we all have a tendency to measure our success in comparison to our peers. Similarly, in life when I was younger, mostly job titles and salaries were my metrics for success.
Without doubt I've begun to reevaluate how I measure success. In watches and in life. Now, the way I measure success is far more robust.
There are 175 people in this room from 17 countries across the globe. I look around and almost can't believe it. Most of you are dear friends.
I feel enormously blessed.
Perhaps we've all heard the expression "The way you measure success in life is not by the amount of years that you've lived or the money you have, but by the friends that you keep."
Both in watches…and in life…I can't remember feeling more fortunate than I do at this very moment.
Tonight I feel very successful."
A überrare Rolex 6538 3-6-9 Explorer Red Depth Dial Big Crown Submariner by @rolexpassionreport

For me, this is what makes these gatherings truly special. It's amazing how these events often lead to forming strong, lasting friendships. Sure, watches bring us together, but it goes beyond that.
The real magic happens beyond the posed table shots, in the stories people share about their watches. You wouldn't believe the wild tales of how they found these timepieces, the connections they've built, and the knowledge they've gained along the way. Especially for collectors, the time and effort invested in acquiring these pieces should never be underestimated. Each watch holds a unique journey of lessons learned, mistakes made, and a collection of watches acquired—each one a stepping stone leading to their ultimate grail watches.




What a couple - Grail alerts! Black RCO dial 6263 Newman Daytona and Rolex 6538 4-liner Big Crown Submariner in amazing condition by @morgan0714



And more super rare beauties... like this Rolex 6263 Tiffany & Co Dial Daytona.



Father of the Big Crown Submariner - Rolex 6200 Submariner by @tulipcrown


Stealth grail watch > Lange & Söhne 1 in STEEL! Only 4 known to be made.


Tropical Delight with this amazing Rolex 5512 Tropical Gilt Dial Submariner by @worldlywatch


A crazy minute repeater, tourbillon Patek Philippe 5207G-001 Perpetual Calendar.. maybe the most stealth masterpiece at the meeting. All complications in one!