Spot On - Rolex 6352 'Pre-Explorer' Ovettone
Sometimes a watch finds you when you are least expecting it. This is exactly what happened to Bernhard during the recent shooting of the Lucca Collection video in Tuscany. For a while now we have had a special affinity for the 1950s Ovettone watches , as I wrote about recently here on the B&S magazine. What we love about these watches are the large size on the wrist. The 36mm case size and 20mm lug width is similar to a Datejust, but the depth of the case is so much bigger – it really deserves its other nickname the Big Bubbleback! The 6098 we saw at Davide Halevim's shop in the famous Burlington Arcade in Mayfair was stunning and fired up our passion for these watches. Today we want to share with you a beautiful Rolex 6352 'Pre-Explorer' Ovettone…
Reference 6098 at Davide Halevim
Reference 6298 Pre-Explorer
A Side Order of Watches
One of the most amazing aspects of the Italian lifestyle is the occasion of sharing food and drinks with friends old and new. It was at such a lunch, with our partner Jean Paul, that a good friend joined us who happens to be a watch dealer. As he started showing the assembled crew some beautiful watches, one in particular caught Bernhard's eye, an incredible Rolex double reference 6350/6352, one of the very early pre-Explorer Ovettone watches with an incredible waffle dial.
Pre-Explorer Watches
The Rolex Explorer has a very interesting and comprehensive history that predates the famous 1016 by many years. There were two reference families in the early development of the Explorer – the 6098/6298 and the 6150/6350. As with all things Rolex, it is very difficult to pin down exactly when these watches were introduced and phased out, but there was certainly overlap with them all. What we do know is that the 6150 was a 'Precision' watch and the 6350 had chronometer certification. Both watches had three-piece cases and the A296 movement. It was on these watches that Rolex began to widely use the black dial with the iconic '3-6-9' hour markers.
The Brevet '+' 7mm winding crown
The casebook sticker still intact
Dress Explorers
Alongside and as part of the development of what is arguably one of their most important tool watches, Rolex used the same cases and dials for watches without the word 'EXPLORER' on the dial. This 6532 is one of these watches and it is a very attractive watch. Whilst it might not actually have the Explorer moniker on the dial, it still utilizes the '3-6-9' hour marker layout, but as applied white metal numerals. Painting the numbers would not have been easy or successful on the waffle dial and so this works really well (I have owned a few Tudors with this exact dial version).
Here you can see the caseback with 6350 crossed through and 6352 at 90 degrees next to it
The Full Package
It is so rare to find such a beautiful watch in such stunning condition. This particular watch, however, has a full set of supporting documentation that might be some of the best we've ever seen. Guarantee booklet, chronometer timing certificate and what is my personal favourite little touch – the paper hang tag in the shape of the iconic coronet. As we continue to research and enjoy these watches we will be sharing them with you and soon we will be offering this watch in our online boutique. Stay tuned…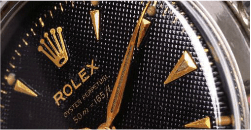 Auction
It's that time of year again when Geneva plays host to auctions that boast some of the finest watches in the world – and this year will be no different! Our friends at Phillips invited me to a prev...
Read more