A Passion for Stainless Steel Chronograph Watches
It's springtime and that means the Geneva auction season is just around the corner. You may remember our article last year about the launch of a new watch-specific auction house; led by Aurel Bacs and his team in collaboration with Phillips. As was widely predicted, the new venture was a huge success and Phillips is seemingly positioned as the premier horogical auction service in the world. This spring will witness the third sale and the second themed sale. The first themed sale was dedicated to the Rolex Day Date watch and we witnessed unprecedented prices for watches that will never return to the lowly position they once held. This year's sale taps into a growing interest amongst vintage watch collectors, namely a passion for stainless steel chronograph watches.
Our Passion for Chronos
At Bulang & Sons we have been sharing our love for these watches for a couple of years now (remember our piece on vintage step-case chronos?). Whether an iconic and instantly recognisable piece such as a Paul Newman Daytona, Tudor Homeplate and Omega Speedmaster or less well known brands such as Vetta and Leonidas – we really love them and have shown you some beauties from our own collections or for sale in our boutique.
Phillips Rocks
And so on to the Phillips chrono sale – 'Start Stop Reset'. Nobody is going to be disappointed by what Pucci Papaleo has curated for this sale with a very nicely balanced selection of steel chromos, with estimates ranging from 2,000 to 1,500,000 CHF! The first wave of 'wow' with this auction is the catalogue…a beautiful work of art with pictures shot by Fabio Santinelli. The watches are presented very honestly and as has become one of the Phillips trademarks, none of the pictures have been Photoshopped of 'enhanced' in any way. This really gives buyers a confidence that they are seeing what they will get…not something that collectors could count on in the past when buying at auction and relying on catalogue images to determine condition.
I spoke to Paul Maudsley, International Specialist – Director Watches at Phillips, earlier this week about the sale, as he prepares for the London preview of the watches this weekend. "We are delighted by the response to this very special theme sale and we are feeling confident that we will see new record prices achieved, for some of the most important chronograph watches to ever come to auction. The sale has something for all collectors at all levels, with each watch being one of the best examples known in the world. We are looking forward to offering our clients these watches and sharing the passion that is chronograph collecting".
B&S Picks
It is almost an impossible task to pick our favorites from this incredible line up; they are all amazing and each watch is there on its own merit. But we've picked a handful of watches that stood out to us and here they are.
Rolex is always a highlight at any auction and the detail of variations in vintage Rolex watches has bred obsessive and highly enthusiastic collectors. 'Start Stop Reset' would never have been complete without the inclusion of the Goliath of Oyster watches – the Cosmograph Daytona 'Paul Newman Oyster Sotto' (or RCO). Probably the rarest of all the Daytonas, this Oyster Sotto is also blessed with a perfect tropical dial (where the black of the dial has turned to a uniform chocolate brown shade). This watch will break records…fact!
Lot 31 – Rolex Cosmograph Daytona 'Paul Newman Oyster Sotto'
One of our great friends owns an immaculate example of the next lot; a Rolex 'Pre-Daytona' chronograpg reference 6238 with black dial. I always love to see these watches and on the wrist they are absolutely beautiful. More desirable than their silver dialed counterparts, this watch will be bought by a discerning collector.
Lot 68 – Rolex Chronograph 'Pre-Daytona', 6238, Stainless steel, 1963
So-called 'double name' dials have been very popular in recent years amongst vintage Rolex enthusiasts and no name conjures up more romantic excitement than Tiffany & Co. Lot 16 is a Daytona reference 6263 with bakelite bezel in very nice condition with the famous Tiffany signature on the dial. Simple and classic, with the glamorous twist…I just love this!
Lot 16 – Oyster Cosmograph Daytona, 6263, Stainless steel, 1980
Of course, I have to talk about the Tudor! The Homeplate Oysterdate was the first chrono to come from the Tudor brand and is considered to be the Paul Newman of Tudors…albeit rarer! I believe this is Tudor's most high profile representation at an auction and the 7031 is the obvious choice for this particular sale. Rarer than its steel bezel brother ref 7032, finding 7031 in good condition is very difficult. Lot 47 is a nice full package and an original example of a very rare watch!
Lot 47 – Oysterdate "Homeplate", 7031/0, Stainless steel, 1971
Lot 38 is the watch with the lowest estimate at 'Start Stop Reset' – a Heuer Autavia reference 73663 in very very nice condition. Featuring a dial layout familiar from Autavias from the 1960s, this watch was manufactured in 1973 and has a large 42mm case that is very 70s in style and execution. What I am sure about is that it will achieve considerably more than its low 2-4k CHF estimate!
Lot 38 – Heuer Autavia "Viceroy-Design", 73663, Stainless steel, Circa 1973
Omega is another brand that we have a lot of love for here at B&S. One watch that always is a sure fire hit is a tropical Speedmaster. Bernhard has owned some stunning examples (he still does in fact!) and they fly out of our boutique faster than most other watches when we are lucky enough to offer them for sale. Lot 22 is an amazing example of the aforementioned, a reference 2998-1 dating to 1960. The alpha hands and large bubble seconds hand sit beautifully against the chocolate dial. Another record breaker? Let's see!
Lot 22 – OMEGA Speedmaster, 2998-1, Stainless steel, 1960
I mentioned at the beginning of this article our piece on step case chronographs. There is a very nice example by Omega in the sale, a reference CK2077 in remarkable condition for a piece that was made in 1941. The CK2077 was the first water proof chronograph and features a screw case back and was big for its time at 38mm. The two tone dial features all three scales – tachometer, telemeter and pulsation…quite the useful timing tool. We really love these watches and its great to see them getting so much love still!
Lot 87 – OMEGA CK 2077, Stainless steel, 1941
Lot 18 is a Universal Space Compax and is, in my opinion, a very cool looking watch. This example is a first series watch dating to 1966 and was intended to be used as a diving watch, hence the Sub-esque rotating bezel, rubber topped pushers and highly legible dial and hands. A true tool watch and it looks just so so cool…what's not to love?!
Lot 18 – UNIVERSAL Space-Compax, 885104/02, Stainless steel, 1966
Lot 81 is an interesting watch. One of the case manufacturers we discussed in our step case article was Taubert & Fils, who made cases for a number of manufacturers including Patek Philippe. This Movado Sub Sea has more than a passing resmblence to a Patek chrono due to the fact that is housed in the exact same case as the legendary Patek 1463 (made by Taubert) and it features the Breguet numerals. A true design classic and one of the best executed watches we've seen in a long time. We love it!
Lot 81 – MOVADO Sub-Sea, 95 704 568, Stainless steel, Circa 1950
A Chrono for Everyman
Whether you are looking for an early 20th century design classic, an elegant dress watch, an iconic sports watch or a simple timing tool; there is a chronograph for you. Here are some more beautiful pieces that we either own, have owned or have been featured in our boutique.
Category_Watch Passion
Bulang & Sons pride themselves on the collection of aspirational timepieces that they present in their online boutique. Should you have a watch to sell, we would love to hear from you. On com...
Read more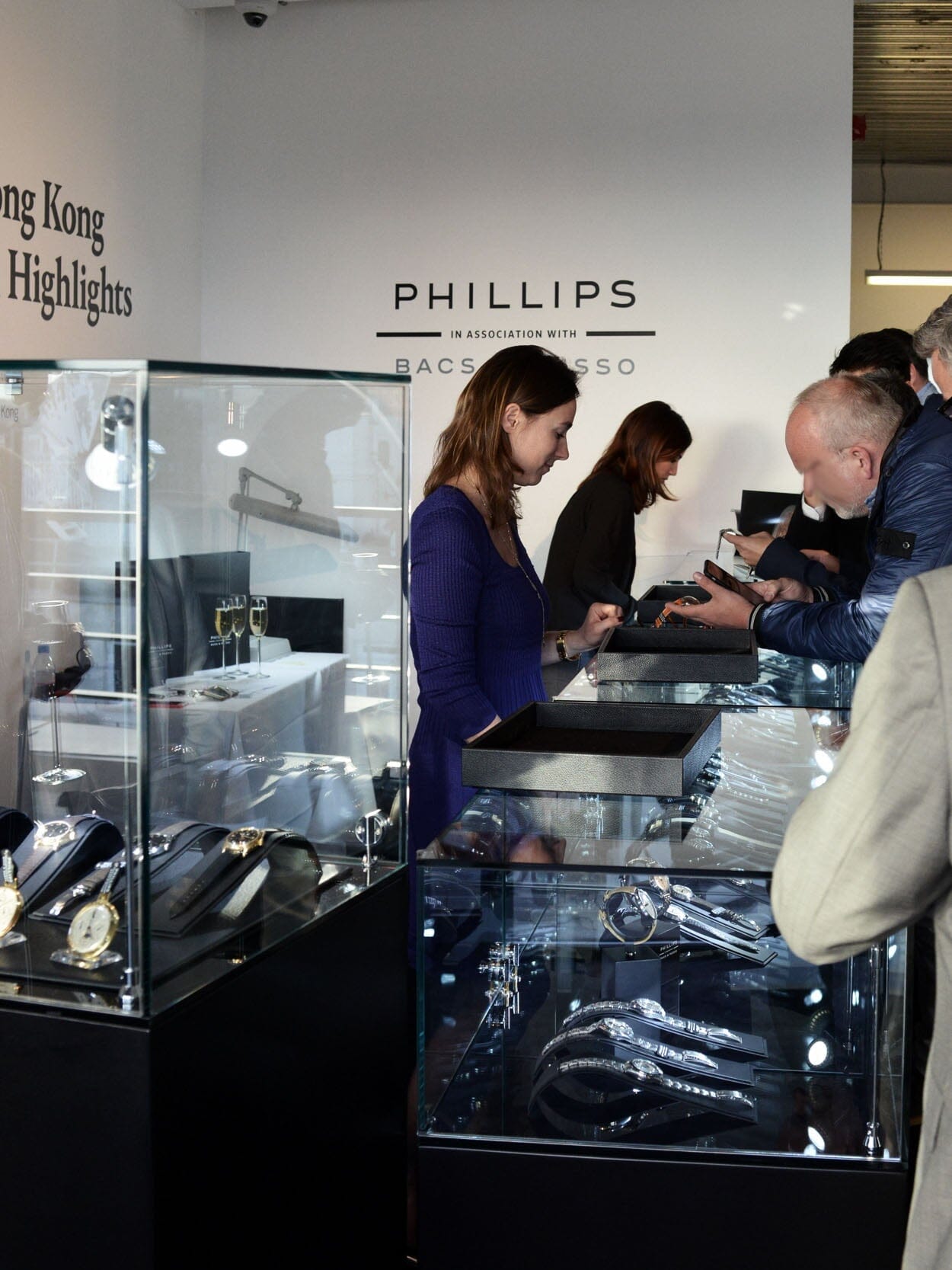 Auction
Phillips Geneva May Sales Preview
We talked about the Phillips auction last week and picked some of our personal favourites from the catalogue to share with you. On Saturday evening, as part of the 'Issued London' weekend event, we...
Read more