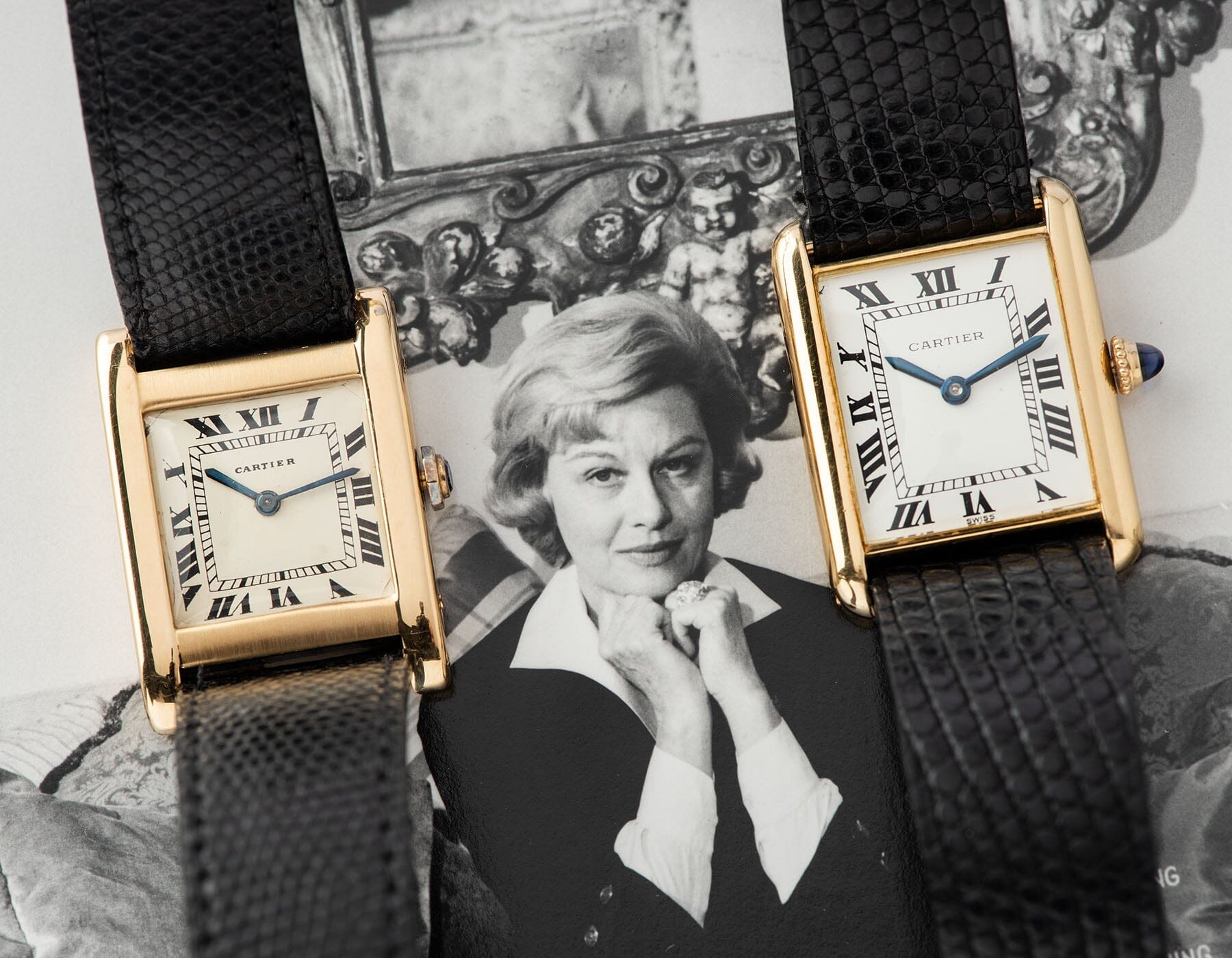 A Cartier Hollywood Love Story
Today we share with you guys a pair of very special Cartier Tank watches that belonged to one of Hollywood's golden ladies…
There is nothing more special than a watch with a story, especially a watch by a brand such as Cartier. We have been given special access to a very special pair of Cartier watches that tell a tale of Hollywood glamour and the relationship between one of the movie world's brightest lights in the 1950s and 60s. A wonderful story about two very cool watches that we wanted to share with you here.
Watch auction watchers will be familiar with the Cartier Tank that sold at Christie's in 2017 that belonged to Jacqueline Kennedy Onassis. A gift from her brother-in-law, Prince Stanislaw "Stas" Radziwill, the watch was worn by Jackie Kennedy throughout her life and was bought by Kim Kardashian for an astonishing $379,500 against a pre-sale estimate of $60,000-120,000. The watch had a personal engraving on the caseback, "Stas to Jackie 23 Feb 63 2:05 AM to 9.35 PM", and it is this engraving that is important to this story…
Jean Howard
Jean Howard was an American actress and photographer. Born in Texas in 1910, she moved to Los Angeles to study photography at the LA Arts Center. In was in Los Angeles that she met the talent agent Charles K Feldman. Feldmen was a lawyer who worked for a number of agents in Hollywood before becoming an agent himself and then a movie producer. Feldman became a big player in Hollywood working alongside Jack Warner, Sam Goldwyn, Greta Garbo and other luminaries of the era.
In 1935 Feldman married actress Jean Howard and the pair became a fixture of the Hollywood circuit. Jean Howard, having had some success as an actress, began focusing on her photography and she would take her camera to all the parties and events she attended. Her photographs were eventually collated for a book, Jean Howard's Hollywood in 1989 which is acknowledged as a leading insight into the Hollywood of the 1940s and 50s and includes stars such as Grace Kelly, Richard Burton, Judy Garland and Cole Porter.
Feldman and Howard divorced in the late 1940s, but remained close friends and even lived together. Feldman was producing big movies in the 50s and 60s including A Streetcar named Desire, The Seven Year Itch with Marilyn Monroe and the legendary first Bond movie, Casino Royale starring David Niven, Peter Sellers, Ursula Andress, Orson Welles and Woody Allen. In 1968 they finally went their separate ways.
The Italian Years
Over the years, Jean Howard became great friends with the legendary musician and composer Cole Porter. Porter needs little introduction and is most well remembered for hit songs including "Begin the Beguine", "I Get a Kick Out of You", "Well, Did You Evah!" and "I've Got You Under My Skin". In 1964, Porter died and bequeathed a fortune in jewels upon Jean Howard. With this huge wealth, Howard travelled a lot spending prolonged periods on the island of Capri as well as London and New York.
It was whilst living on the idyllic Italian island of Capri that she met a musician, Tony Santoro who was twenty years her junior, in one of the resort's night clubs. Together they moved back to Feldman and Howard's LA home in 1969, which Howard was eventually awarded in the divorce, where they lived until Howard passed away in 2000.
The Gift of A Cartier Tank
Today we present to you a pair of Cartier Tanks that were gifted between Jean Howard and Tony Santoro. Both in yellow gold and classic Tanks in styling, it is the casebacks that tell the story of their relationship. The first dates to 1969 when Santoro bought a watch and had an inscription on the caseback done at Cartier London.
The London hallmarks on the case also match the hallmarks on the deployment, which is a nice touch! You will notice that the engraving is similar in style to that on the Jackie Kennedy watch, including the time also (13:55)! This watch features a European Clock and Watch Company movement.
In 1971 Jean Howard bought a Cartier tank as a gift for Tony Santoro, which has a much neater engraving. This watch features a case that is stamped New York and houses an Audemars Piguet movement. Yes, that's right – a Cartier made by AP. Known to exist in around 50 pieces, this is a very rare and special watch in its own right.
AP made a few pieces for Cartier in the early 70s including Tanks, Reverso and Baignoires. I'm sure at the time, when Jean Howard bought the watch, this was no big deal, but with the huge surge in interest in both Cartier and Audemars Piguet, this is on heck of a watch!
Both of these watches, that belong in a private collection, are accompanied by large number of Jean Howard's original photographs and the whole package has been authenticated by Tony Santoro's sister! It is finds such as this that make watch collecting the fun that it is. Watches with a story and links to bygone eras. We can only imagine the trips on which these watches were worn, the incredible places that they visited and the people with whom they had contact.
Let us know if you are interested in the pair of Cartier… we are happy to connect you with the collector / owner.