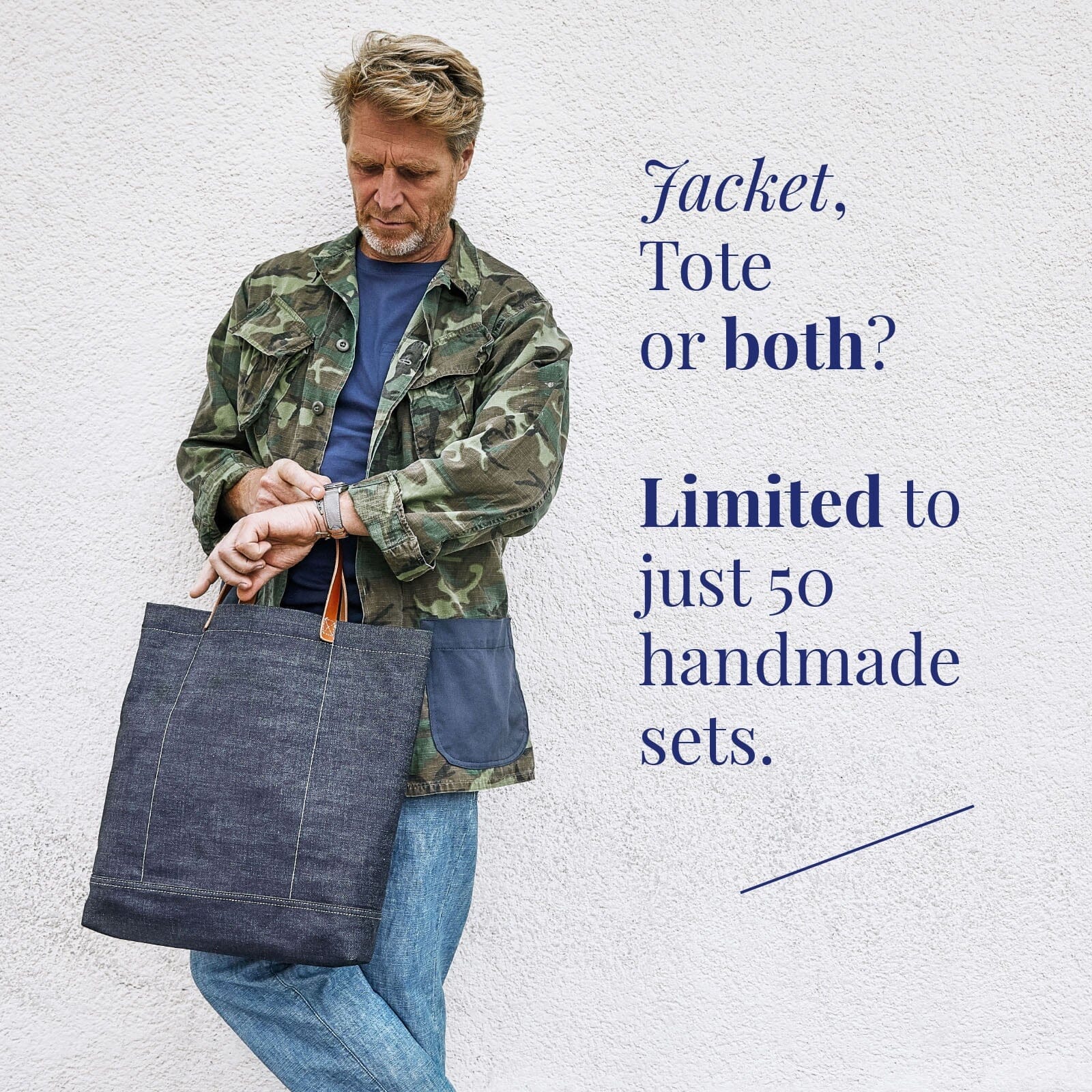 The perfect match: vintage jacket and handmade tote
Now available as a limited-edition set
At the heart of our Blue Label Collection is a selection of 50 vintage jungle jackets, each of which we've given that certain Bulang and Sons twist. Get one of the rare vintage finds while you can or better yet: combine your jacket with a matching tote bag to create an exclusive set – curated with love and executed in collaboration with the Grivec Bros.!
Our affection for vintage army jackets is unwavering. With their ingenious cuts, functional details and gracefully aged materials, these designs were blueprints for many modern menswear staples. And they're a great canvas for customization!
But for us, it's like with watches and most everything else – they have to be original. No retros, please! That's why we've gone to great lengths in searching for 50 original rare vintage jungle jackets from the late 60s to early 70s for this special edition project.
Each of these roughly 50 year old jackets was handpicked for its great condition, and each one is a unique character piece, certified by the original neck and hip tags that convey where and when it was made. Right up our alley as watch and style lovers!
We have customized these jackets slightly to our taste and present each of them in an exclusive set with a Bulang and Sons denim tote bag. You can simply buy the jacket or get the set we have created in collaboration with the Grivec Bros.' local denim brand and atelier in Chevremont.
There are two jungle jacket set varieties made for the Blue Label Collection, separated by their distinct colour first and then their original fabric properties. You can choose jacket, tote or both. The jungle jacket sets offer a truly unique added-value package.
The Olive Drab Sets
The faded olive tones of vintage surplus are never out of place – combine them with blue jeans and a white shirt and you've got the quintessential comfortable modern menswear look. With our Olive Drab sets, we give this style our own little spin.
On each of the limited olive drab jungle jackets, we have replaced one hip pocket with a patterned pocket from one of the ERDL camo jackets. A detail that might only be visible at a second glance – but that's just how we like it at Bulang and Sons.
The pocket that was removed from the olive drab jacket has been given a new life as the inside pocket of the unique selvage denim tote bag made exclusively to create a jacket + tote set. The jungle jacket and its matching denim bag now carry a common spirit. You can buy each item seperatly but as a set they really amplify your style.
More about the exclusive tote bags that are available seperately or paired with a jacket below!
The ERDL Camo Sets
With its earthen tones, the ERDL or Leaf pattern is one of the more recognizable US army camouflage variations and very typical for the late 1960s, when these jackets were made. For our Blue Label Collection, we have given them a whole new twist.
We have taken off the two hip pockets and replaced them with specially tailored pockets, made from herringbone structured cashmere mixed blue fabric for a super light and soft feeling – perfectly in tune with the spirit of the Blue Label Collection.
The blue pockets take a bit off the military edge of each jacket and bring it nicely into today's casual fashion. These one-of-a-kind jungle garments go great with denim and blue tones in general by providing a distinct but gentle, unobtrusive contrast.
The two removed pockets do not go to waste. One is saved to be used for the jackets in an Olive Drab set, the other is sewn into the unique denim tote bag that is made exclusively for this jacket – a combination that renders every set truly unique!
All jackets in the sets are third pattern executions from the Vietnam War era made from either a poplin or ripstop fabric. Both materials are light, robust and provide a beautifully aged softness which is the authentic mark of the best vintage wear.
The Tote Bags
The tote bag in each set is designed to be your new companion while making a style statement when combined with the rest of the Blue Label Collection. To be honest, we've always searched for this exact tote and finally decided to create it ourselves!
The shape of the tote is one of our favorite men's bag dimensions for daily wear, ideal for the slim office tools or a quick stop at the shops after finishing your day. It even fits a nice blanket for a quick escape to a green spot in your city!
The bags are all handmade by Grivec Bros. with a superior dark blue Pink Selvage Denim by the renowned Japanese Kuroki denim factory. The hand-dyed leather handles come from the same supplier that creates the unique Grivec Service Belt.
Jacket, tote or both? Now it's up to you!
The limited jungle jacket + tote sets represent our approach to a unique style that you won't find anywhere else – an approach that is at the heart of our Blue Label Collection.
.
Behind the scenes
We truly enjoyed working on these special projects and limited collections. The passion and fun in our team, the great craftsmen and partners we are working with is truly inspiring.
All the hard work in the process, creativity and devotion makes me proud to be part of it.

Bernhard Bulang