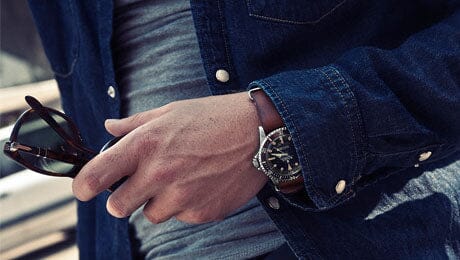 Summer vibes & fashion tips
Summer vibes & fashion tips
Before summer is winding down and we're slowly making the transition to this fall's army green and mustard brown colours, we give you some fashion tips that you can combine with our products. Take a look at the summer sale for the perfect match between your wardrobe and our high-quality vintage leather bags or straps, pocket knifes, water bottles and other urban lifestyle goods:
1. Men in red
Men in red popped up in all kinds of variations during the fashion weeks for this summer.
2. Every shade of blue
Naturally, blue can't stay behind. Shades of blue, ranging from bright cobalt to royal, were seen all over at the men's runways.
3. Colour blocking
If the flower power that hit men's fashion this year is a bit too adventurous for you try the colour blocked tops to give your wardrobe that little boost.
4. Blazers!
Flower prints and all kinds of patterns also touched the blazers. For the monochrome lovers, the double breasted '80s favourite is back in a big way this summer.
5. Shorter than shorts
No more suffering for men who think they are utterly underdressed if not wearing long trousers. Since last year men shorts dominate the big city streets and they even get shorter this summer.
The Bulang & Sons Summer sale >>>
Category_Lifestyle
Create your own personal style… This year's ultimate cinema hit is Boyhood, a masterpiece by Richard Linklater that spans more than a decade, chronicling one boy's journey from boyhood to adulthood...
Read more