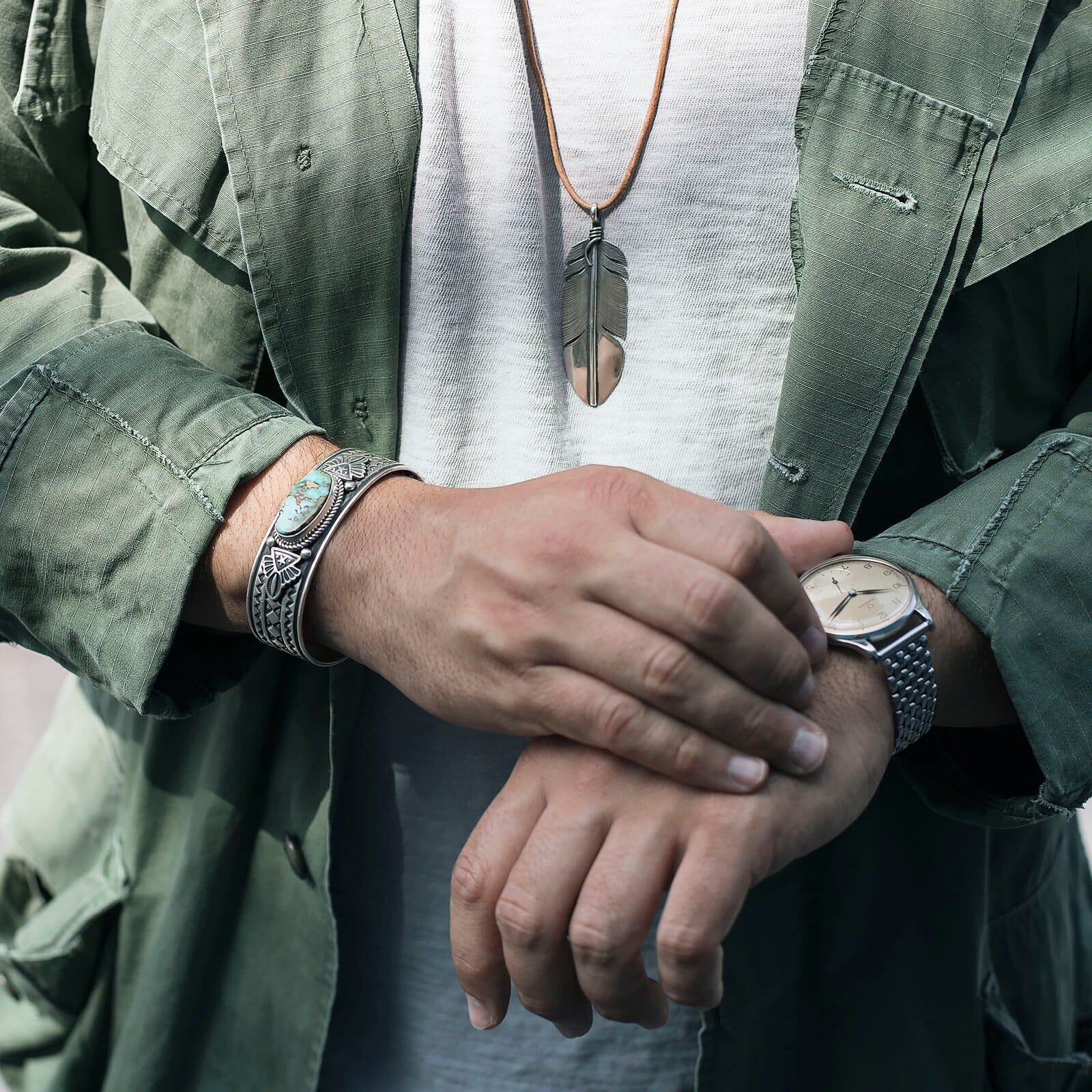 Harpo Paris at Bulang and sons
We are happy to welcome Native American craftsmanship specialists Harpo Paris to Bulang and Sons! Here's a little introduction to the fascinating world of this highly original shop and how we came to feature a number of their products in our store.
Besides our passion for watches and watch straps, we have a soft spot for tasteful men's jewelry. The rugged cuffs from the small Pittsburgh smithery of Studebaker Metals have been a staple of our portfolio for a while now, as are the pretty Happy Beads bracelets –and yes, there is even a dedicated Cuffs & Bracelets section of products in our shop.
This exclusive range is now enriched by an assortment of beautiful Native American jewelry pieces from the amazing company Harpo Paris. Since its foundation in 1971, Harpo is the European premium shop for all things Native American – selected and imported personally and fair right from the makers in North America.
Out of deep respect for the Native Americans and their wonderful craftsmanship, Harpo does their best to be faithful to the original spirit of these proud people who have been living in accordance with nature since time itself began. With naturally sourced materials such as silver and turquoise stones, they create absolutely unique pieces.

A FAMILY BUSINESS BETWEEN PARIS AND THE USA
The Harpo story starts in the 70s with its founder Gérard Nadaud traveling in the Southwest United States and discovering the art of Native American jewelry. Upon his return to Paris, Gérard brings back with him a selection of exceptional pieces that will become the cornerstone of a new business: Harpo.
Very quickly, the quality and rarity of his products gets noticed. Celebrities, fashion mags and journalists create such a demand for the Native American jewellery that Gérard soon has to travels back and forth between Paris and the USA. Later, he passes on his business to his daughter Dorothy and her two sisters Ella and Valentine.

Today, the Harpo collection displayed at the store features over a hundred different artists and their creations. Harpo is distributed throughout the French territory as well as abroad.The French brand has since become the benchmark in the world of Native American jewelry and Turquoise art.
You can buy our Navajo Manassa Turquoise Silver Cuff here
You can buy our Navajo Turquoise Silver Feather Pendant here
TURQUOISE AND FEATHERS, MATERIALS AND SYMBOLISM
Turquoise really is an amazing natural material. Turquoise stones differ in color and density, depending on where they are found. With turquoise being a fossilized phosphate, it feeds from oxidation of surrounding minerals like iron, copper and aluminium, which all do their share in adding to the final characteristic tone of the material.
The spiritual symbolism of turquoise has been confirmed by many objects found on various sites of the American West. Many Native Americans associate the blue turquoise with the divine sky and the green variety with the earth. The Navajos believe that turquoise carries special powers, and that wearing it brings good fortune.
Much the same can be said for feathers – to the Navajo people, a feather is not just simply a part of a bird's wing. Traditionally, a feather is a gift of honor that symbolizes virtues from trust, honor and wisdom to power, freedom and other important things. Thus, the feather in its various forms also plays a decisive role in all Native American art and jewelry.

You can buy our Navajo Silver Feather Pendant here
FROM NORTH AMERICA TO PARIS AND INTO THE WORLD
The sheer amount of fashion and style magazines from all over the world who have featured pieces from Harpo Paris testifies to the importance as a premium address for this authentic kind of jewelry. Their knowledge of this culture and its crafts is a reminder that style can't just be bought, it is first and foremost a matter of taste and instinct.
We at Bulang and Sons are happy to have established a bond with the family-owned Harpo Paris and to be able to offer you an exclusive selection of their finest goods. From silver cuffs to bead bracelets and feather pendants, this assortment represents the true original spirit of Harpo Paris and of authentic Native American craftsmanship.

You can buy our Navajo Slim Silver Cuff here