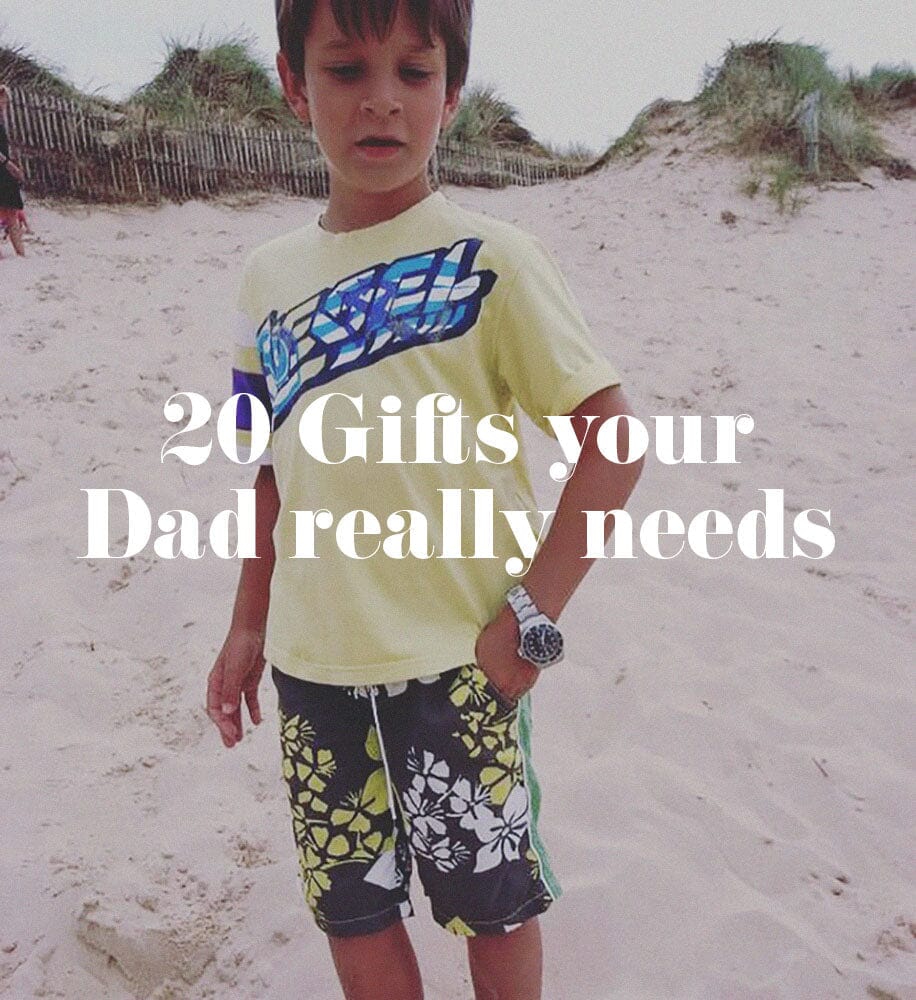 Bernhard's Father's Day Gift Guide
Dear friends, Father's Day is coming up and let's be honest, we love that special attention and celebration. I am so proud to be the Dad of 3 great kids and the word 'SONS' in Bulang and Sons has a special meaning to me. It's not just about the boys, but a synonym for generations. The passion that was handed to me by my father, as much as the devotion, passion and good values in life i try to pass on to my kids. I am so happy and proud they are so much involved in our little Bulang and Sons adventure and hope to share it with them for many years to come.
Some personal favorites
Special for this Father's Day i want to share some of my personal favorites from our collection with you. All products we carry in the shop are curated by my team and I. We only sell the things that inspire us, we truly love and use ourself. It's for us the key factor in finding great stuff that adds some soul to our daily life and brings joy on our route and adventures to come. And I'm happy to share them with you…I hope you like them also and they will also bring you joy and fun, enjoying them with your loved ones.
So great to see such different characters and personalities within our 3 kids. The oldest, up for adventures, either under water or up in the air. Following his dream in the Airforce. The girl, totally into sports and field hockey. Growing in her role and ambition, but still so kind and friendly. A total team player. And our boy in the middle, passionate, into watches, food, fashion and travel. He wants to join Bulang and Sons and work with his dad in the future.
At the end of the day, all the watches we own, the cars we drive, the stuff,… they are only a joyful part of the route. The most precious parts are the moments and memories we share. And i hope i will be able to share many more memories with my family. These moments are our legacy. Enjoy yours and spice up your route with our selection of Father's Day Gifts.
Easy, fast and happy to help
Please show this guide to your loved ones or give them your list. Of course we are happy to help them choose the right gift. Have them contact me (bernhard@bulangandsons.com) and i will make sure you get what you like.
Also we offer easy and secure Fedex shipping worldwide. You can choose ECONOMY (4-10 business day) or PRIORITY (1-3 business days). Most of the time orders made before 12.00 P.M. C.E.T. are shipped the same day and can be in for example New York City the next day with priority shipping.
For all orders over 300 euro we offer FREE PRIORITY FEDEX SHIPPING
#1 – THE GRANT VOYAGEUR NOTE BOOK
Traveling for business, writing down all these memories, creating new collections. There is no moment a nice notebook does not come handy. I have one with me all the time. Also we are living online 24/7 these days, i love the analog feel and creative process with a pen and paper. Comfortable passport size, cool leather cover and also comes with a card – cash holder / zip pocket inlay and a few fillings.
Custom Paper Republic Grand Voyageur Black Notebook buy it here
#2 – Apple Charging Cable – why not get a real nice one
Why spend time with ugly stuff? When you can have something that is not only working perfect but also looks fantastic. Simple like that. I tried all kinds and so many have failed after short use. But these have never let me down and look/feel just great. A bit of old school vibe to the mix. Love them.We offer 2 colors and 3 versions. So choose what fit's best to your use…
NATIVE UNION Apple Charging Cables you can buy here
#3 – The soft Natural Cosaro Strap
The Natural Cosaro strap is a creation of last years Nordic Collection and quickly has become one of our most popular straps. The box stitching ads up to the vintage feel, without being to dominant. Just that bit of extra flavor. I love the color of that strap and the softness of the leather. Such nice feel and comfortable to wear. This strap will also add some timeless flavor to your modern watch.
We carry these straps in 19, 20 and 22 mm and also in Short Length.
The Natural Cosaro Brown Leather Watch Strap you can buy here
#4 – COOL NATO LOOKS
I love to wear nato straps. And sure love to wear the Siena leather nato strap. It's soft, it's thin, it's cool and works with almost every watch. I really love to use it to dress down a dress watch or classy chrono. And of course it shines on a vintage tool-watch. You can also combine it with every fashion style you love, so versatile. The strap is available in 20 and 22 mm.
The Siena Brown Nato Leather Watch Strap you can buy here
#5 – A soft home for your stuff – organized, casual, accessible
Well every man needs one. That little tray where you can drop your stuff and know it sits there, soft and safe till you want to pick it up for the next fun in life again. You simply need one. Fact of life!
The Grey Rugged Big Leather Valet Tray you can buy here
#6 -Your Curated Strap Collection – Happy to help you select!
We are happy to offer you some great Strap Sets. Offering a set including a amazingly soft and handy strap roll filled up with 3 or 5 handmade leather watch straps in a attractive package price. The perfect way to start your strap collection and style-up and change the look and feel of your watch in an instance.
My personal help…
With our Curated Strap Set i am happy to offer you my personal help. You can buy the set in the shop and e-mail me some images and the lug width of your watch(es). I will then mail you my suggestions which i feel they fit best and together we choose the ones that make you smile big time.
1 Strap Roll + 3 or 5 of our handmade watch straps…
You can select your preferred Strap Set here
#7 – The tool to change your straps
This is the perfect tool set for the quick and safe change of straps on your vintage and modern watch, whether at home, on your travels or at the next watch lovers' meeting. The stainless steel tool with its unscrewable ends represents a unique one-for-all solution and comes in an exclusive handmade leather pouch that is already sure to turn heads itself. We use it all the time to style up our watches.
The Siena Brown Spring Bar Travel Tool Set you can buy here
#8 – A damn cool belt
Handmade by our friends from Grivec Broth., this a one of my favorite belts at this point. Just that little bit of different flavor and some cool details. The perfect compliment for your jeans and chino. For sure my summer style.
The Grivec Broth. Brown Leather Service Belt you can buy here
#9 – THE STRAP FOR THAT SPORTY ELEGANT LOOK
This Structured Taupe strap is one of my favorites at the moment. It's so comfortable, thin and soft to wear. It just fit's with every watch. Love to use it on a toolwatch like my Submariner, as it adds a nice elegant twist. But it also is a perfect match with vintage chrono or dress watch. I wear my Patek 5296 Calatrava on one all the time.
The Structured Taupe Grey Leather Watch Strap you can buy here
#10 – Zip it up and go
Such easy and practical to bring your watches along. With 2 moulded slots, finest soft leather and elegant size. When you are a watch lover you need one of these. Of course we have more variations, bigger or room for more watches. But this one is just so practical. And it sure beats having your kids carry around your Big Crown or Red Sub .. LOOOL
The Black 2 Watch Leather Zip Pouch you can buy here
#11 – The Summer Scarf
Well you can use a scarf for the cold and keep warm. For me a nice scarf is one of my favorite style items. I don't wear ties, they feel restrictive and to formal to me. But a nice soft, light scarf i love to wear all year long. Somehow it adds to the flavor and finishes it off every look i choose. With summer coming up it's a must item in my holiday bag. Just combining it with a t-shirt, some shorts and enjoy beach life to the fullest. This organic light and soft cutton is just a perfect match for that.
The Indigo People Noboru Scarf you can buy here
#12 – Cards and Cash
Most of our time we mainly bring cards and only little cash these days. I don't even have a coin compartment in my holders anymore. Just a light bi-fold card holder that holds 4 cards and a few bills is a perfect compagnon for travel and a night out. And still some room left inside.
This one is made out of the finest, soft calf skin as known from some of the most prestige bag brands.
The Oxford Blue Luxury Leather B-Fold card Holder you can buy here
#13 – Get Inspired by Brooklyn
Many of you might know that my background is the design world and i collected vintage design before i started with watches many years ago. Design and interior books have been also a addiction and my office had been filled with a big library. I loved the books where you could not only find some cool interiors but also learned about the people who lived in them. Hear their story and feel their character. Which makes the interior so much more alive. Just like with vintage watches, the stories add so much to the magic.
The Brooklyn Interiors Book you can buy here
#14 – The Porsche 911 Coffee Table Book
What to say? We love Porsches 911. We love books. And this is not just looking at pictures, but also learning about the cultural icon 911. Porsche drivers talk their mind. A must-have for boys loving toys!
The Porsche 911 – The Ultimate Sportscar as Cultural Icon Book you can buy here
#15 – Summer feel on your wrist
We are working with Oskar now for quite some years and love his bracelets. I love to combine them in many ways and mix and match them with my watches and Hermès Hapi bracelets, Happy Beads and thai colorful cords. Enjoy your summer look and mix and match on your wrist.
You can find our selection of bracelets here
#16 – Feel Deluxe
As said i am a huge nato strap fan and have been wearing them on all watches for many years. I am very happy that we have been able to source some of the softest nylon nato straps, created out of the finest double the yarn deluxe nylon, instead of polyester, most of the nato straps are made of. Ultimate wearability and comfort.

The Deluxe Nylon Nato Watch Strap Pure Grey you can buy here
#17 – My shoes never go out without some cool socks
Socks? Yes socks! Another of my favorites, to combine my looks with some nice socks. Go funky or distinct, always trying to add a bit of nice friction. Just a little finishing touch, when your trouser leg moves up. Check out our selection and have your love ones spoil you.
Our selected collection of fine socks you can buy here
#18 – The softest box for your watches
You know, as a collector i always hated these piano gloss like black watch boxes available. Boring, bourgeois and often looking dead to me. I was always searching for the ultimate watch box that offered me a luxurious feel, but at the same time a kind of understated look. Aging nicely. So here is your premium Father's Day gift. But hey, you are worth it!

The Taupe Grey Luxury Leather Watch Box you can buy here
#19 – It's brass, its bold, its cool
It's a very simple message. One of my favorite ballpen's. Made out of solid brass parts and in such a great pocket size.
The Kaweco Sport Brass Ballpen you can buy here
#20 – Add some fun to your watch style
Last but not least we love to add a smile to the serious hobby of watch collecting. A button set for the collector with enough self-mockery and humor. kind of a secret code among watch nerds. This set of 8 buttons pokes fun at some common topics within the watch game. Button up your attitude and have some fun!

The Button Set M-65 Collection you can buy here